Clothes Out
Moving out? Got old clothes, gear, or electronics that you don't need anymore? Don't just throw them away! Residential Life and Housing & Hospitality Services have partnered with a number of community and campus organizations to help reduce unnecessary landfill waste and help community organizations with clothing and textiles recycling, and donations of electronic waste.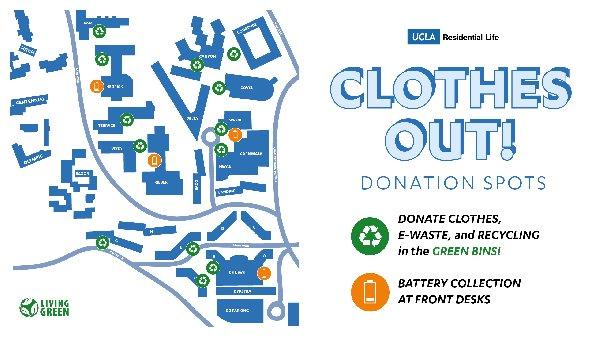 Clothes Out! Clothing, E-Waste, and Recycling Collection
May 27- June 13
Check the map for the bin closest to YOU!
What can I donate?
Any and all clothing, shoes, toys and household textiles! This includes new, used, gently worn, outgrown, and unwanted clothing in any condition, regardless of gender or size.
Jackets & coats
Sweaters
Tops
Bottoms
Undergarments
Athletic gear
Bathing suits
Hats, gloves & socks
Laptop covers
Small luggage
Bags & wallets
Accessories & jewelry
Hospital scrubs
Backpacks
Shoes
Costumes
Stuffed animals
Blankets, sheets & towels
Comforters
Small rugs & mats
Electronic Waste (E-waste) Collection
Desktop & laptop computers
Cell phones
LCD/CRT monitors & TVs
Game systems
Digital cameras
MP3 players
Printer, scanners, & faxes
Keyboards & mice
GPS systems
Assorted electrical wire & power cords
Toner cartridges
Surge protectors
Microwaves
Audio equipment
Power supply systems
Computer servers
Please do not place personal care products in the bins
Not sure where to take your items? Email leadership@orl.ucla.edu for assistance!