Afrikan Diaspora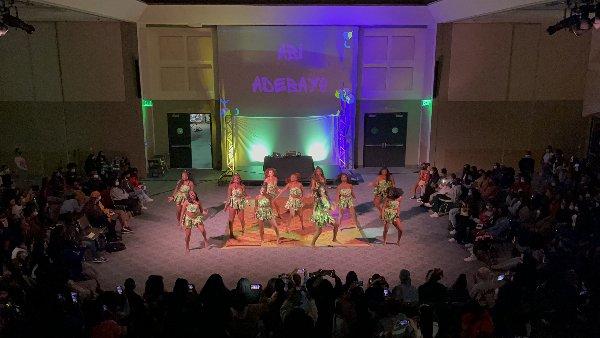 Nigerian Student Association performing at the 14th annual Black History Extravaganza!
About
The Afrikan Diaspora Community provides students with opportunities to be immersed in Afrikan cultureat UCLA and beyond. This community allows students with similar interests to create lifelong friendships, partake in programming and dialogue that is mindful of issues surrounding Afrikan culture, and provides students with opportunities to be involved in the Los Angeles community.
"Afrikan" is spelled with a "k" rather than a "c" to symbolize the reunion of Afrikan people worldwide. "Diaspora" refers to any group that has dispersed outside its traditional homeland. To residents of the floor, it is lovingly also referred to as "4North."
All students, regardless of cultural heritage or major, are invited to join in on the rich exploration of Afrikan culture.
The Afrikan Diaspora LLC is located in Rieber Hall.
Recent Programs
14th Annual Black History Extravaganza: Join us for a night full of celebration of Black history
and culture through song, dance, and spoken word.
50 Shades of Black(ness): Join us for constructive dialogue about the various levels of
Black(ness). Residents on our floor identify with different cultures within the Afrikan spectrum.
This event is to understand the multitude of these cultures and to learn more about the different
"shades of Black(ness).
"Get Schooled" Representation in Education: This event is aimed to facilitate an open dialogue
about diversity in higher education.
Sip & Paint: Come de-stress your midterms by painting your things that inspire you.
Resident Perspectives
"4north is a place where family is formed. A sense of belonging and community extends beyond
one's time living on the floor"
"A life changing experience where you'll meet friends you'll have for life"
"I'd describe the floor as really fun, open, and being in a living learning community makes it so
you're more open to hanging out with each other."
"Home away from home"
GE Cluster for Freshmen
As a first-year student in this LLC, you may want to enroll in Cluster 20: Race and Indigeneity in the US. Being part of the Cluster will allow you to bring your experiences from your LLC into the classroom with fellow LLC students. Cluster 20 looks at social and cultural themes that shape contemporary American life, explores the role of race in society today and the ways in which racial stereotypes are produced and challenged in popular culture. You'll engage in active dialogue and debate to become culturally fluent in the new multiethnic complexities that have displaced the outdated black-white paradigm of U.S. race relations. You can find out more about the Clusters at the workshop on the First Year curriculum at your Orientation session, and your summer New Student Advisor can work with you to get you enrolled in Cluster 20.
Campus Partners
Affiliated Student Organizations
Questions?
Email us at livinglearning@orl.ucla.edu