First to Go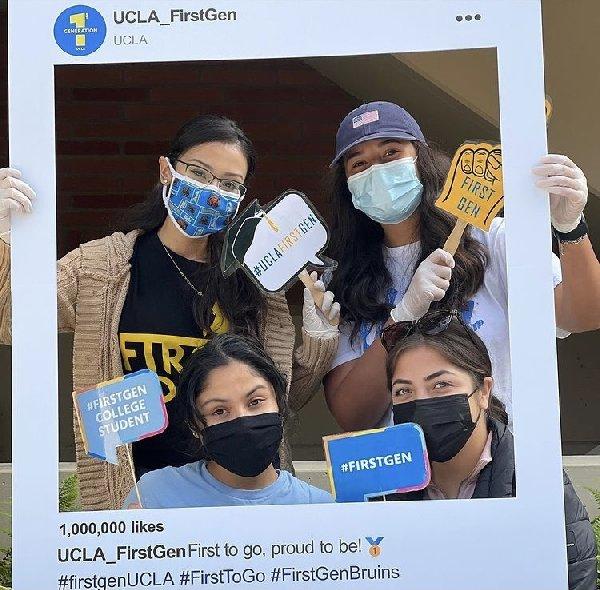 First to Go residents celebrating National First Generation Day: First to Go, Proud To Be
First to Go, Proud To Be
The First To Go Living Learning Community provides an inclusive living environment for Bruins who identify as first-generation college students. This community is designed to stimulate academic success by providing support and cultivating an encouraging environment community to aid in maximizing student success. It assists in family and community connections and aids in managing the "two worlds" of school and home while creating pride and visibility among the diverse UCLA first-generation community. Students who chose to live in this community gain an extra layer of support in navigating through the university, increased connections to faculty, staff and first-generation specific resources and a fostered support system of first-generation peers.
The primary focus of the First To Go is to heighten visibility around the first-generation college identity and cultivate community through the common shared experiences of navigating university life. Students make connections beyond the identity of being a first-generation student. They connect in classes and know that they have each other for support. The First To Go community is a home where everyone feels safe not knowing the UC system, and where growth and learning occur in solidarity with each other.
All students, regardless of cultural heritage, identity or major, are invited and encouraged to join in building the first-generation college experience.
Check out this article written by the LA Times reporting on the story of the creation of the First To Go floor and the welcome we gave our residents.
*Note: for our program, a "first-generation college student" is identified as a student whose parent/guardian have not received a four-year U.S. bachelor's degree.
The First to Go LLC is located in Hedrick Hall.
Recent Programs
Financial Wellness Workshop: Residents learn how to apply for scholarships and how to navigate their finances to fit their overall wellbeing.
*Mentorsh1p: Residents from the First to Go floor get paired up with a UCLA faculty member who is also first in their family. Residents meet up with them regularly and gain insight from their mentors experience as well as their advice.
Scholarship Resource Center Pop-in: Residents learned how to be better prepared and the tips and tricks of applying to scholarships.
A Day in Santa Monica: Residents spent time together having fun at the beach, while reflecting and preparing for the last few weeks of the quarter as well as the academic year ahead.
Resilience Training: Residents reflect about themselves in distraught or stressful situations and how they can overcome them with practical techniques.
Resume/CV Building Workshop: With the help of the career center, residents learn skills to fortify their current resumes while learning about different approaches to getting a job on or off campus.
GE Clusters for Freshmen
As a first-year student in this LLC, you may want to enroll in Cluster 20: Race and Indigeneity in the US. Being part of the Cluster will allow you to bring your experiences from your LLC into the classroom with fellow floor residents. Cluster 20 looks at social and cultural themes that shape contemporary American life, explores the role of race in society today and the ways in which racial stereotypes are produced and challenged in popular culture. You'll engage in active dialogue and debate to become culturally fluent in the new multiethnic complexities that have displaced the outdated black-white paradigm of U.S. race relations. You can find out more about the Clusters at the workshop on the First Year curriculum at your Orientation session, and your summer New Student Advisor can work with you to get you enrolled in Cluster 20.
Resident Perspectives
"Being able to share a place in which we all are different, but share the experience of being a first generation student and being able to grow together by learning from each other makes this floor amazing."
"The First To Go floor has given me an unforgettable experience from dorming with amazing roommates that are now like sisters to me, to the wonderful RA's who've done a great job fostering beneficial programs and organizing fun activities, to the friendly faces that I've gotten to know and connect with in a community of First Gen students."
"This floor gives us a shared space to connect and I feel like I belong. It makes the college experience so worthwhile because people on this floor are so motivated."
Campus Partners
Join Us
Questions?
Email us at livinglearning@orl.ucla.edu