Pilipinx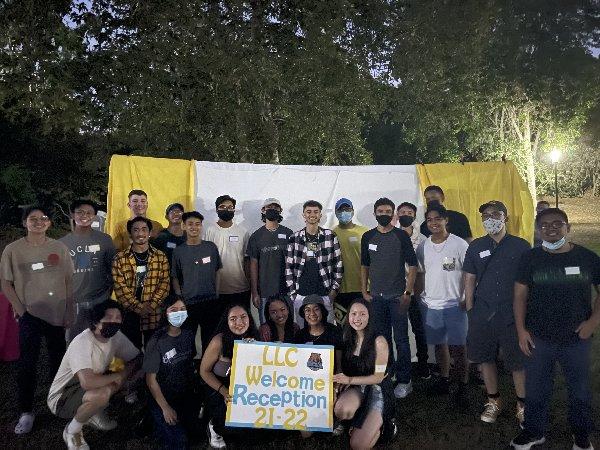 Pilipinx residents mingling at the LLC Welcome Reception
About
The Pilipinx Living Learning Community is a home and support group with the goal of increasing proficiency in leadership, academic, cultural knowledge, and community development skills for success in college, work, and life. It is open to all students and focuses on education in relation to the Pilipinx American experience. The activities are designed to encourage students to engage in dialogue, research, leadership, and creative art to continue the legacy of the Pilipinx American narrative.
Pilipinx is the gender-neutral alternative to Pilipino, Pilipina and even Pilipin@. Used by scholars, activists and an increasing number of journalists, Pilipinx is quickly gaining popularity among the general public. It's part of a "linguistic revolution" that aims to move beyond gender binaries and is inclusive of the intersecting identities of Filipino American descendants. In addition to men and women from all racial backgrounds, Pilipinx also makes room for people who are trans, queer, agender, non-binary, gender non-conforming or gender fluid. Switching the F to the P celebrates identity, as we learn about the larger frame of decolonization.
The Pilipinx LLC is located in Dykstra Hall.
Recent Programs
LLC Welcome Reception: Residents are introduced to all 11 of the Living Learning Communities on campus who each have their own booth. The Pilipinx booth celebrated the art of parol making and enjoyed a classic game from the Philippines called "Hep Hep Hooray."
Pilipinx Welcome Reception: The Pilipinx LLC hosts a social and resource fair for the UCLA Pilipinx community at large.
Tinikling Workshop: The Pilipinx LLC and Samahang Pilipino Culture Night (SPCN) will collaborate and host a dance workshop highlighting the art and significance of Tinikling.
Pilipinx LLC Signature Event (SPROM): All Pilipinx residents are invited to a prom-like dance hosted by the LLC in collaboration with the student club organization the Mabuhay Collective. The night will be filled with food, music, and lots of dancing.
GE Cluster for Freshmen
As a first-year student in this LLC, you may want to enroll in Cluster 20: Race and Indigeneity in the US. Being part of the Cluster will allow you to bring your experiences from your LLC into the classroom. Cluster 20 looks at social and cultural themes that shape contemporary American life, explores the role of race in society today and the ways in which racial stereotypes are produced and challenged in popular culture. You'll engage in active dialogue and debate to become culturally fluent in the new multiethnic complexities that have displaced the outdated black-white paradigm of U.S. race relations. Your summer New Student Advisor can work with you to get you enrolled in Cluster 20.
Resident Perspectives
"Welcome to a family of student leaders passionate about the Pilipinx experience. Mabuhay!"
"Everyone is really nice here and I really like how you bring people from the community to our floor!"
"Isang Bagsak!"
"Friends on this floor turned into my family."
"Dialogue and community is what it's all about!"
Campus Partners
Academic Advancement Program
Asian American Studies Center
Affiliated Student Organizations
Pilipino Council of The Mabuhay Collective at UCLA (PCMC)
Questions?
Email us at livinglearning@orl.ucla.edu