Creative Collective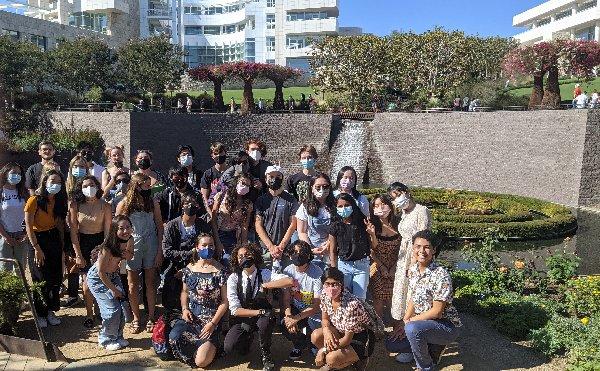 Creative Collective residents explore world famous art and architecture at the Getty Center
About
We are the storytellers, the music-makers, poets, artists, designers, movers, and dreamers. Through creativity we interpret and express the world around us and within ourselves, making connections that bring our campus community together.
As members of this community, LLC students are encouraged to build relationships, attend arts events and programming for creators, and expand and explore their artistic horizons on the UCLA campus and beyond. All students, regardless of artistic background or major, are invited to take part in an engaging and vibrant floor that explores the broad meaning of art and creativity and their impact in society.
The Creative Collective LLC is located in Hedrick Hall.
Recent Programs
Singing Workshop- Partnering with the a cappella group Youthphonics, residents of all singing ability learned a new song together. Using singing techniques and guided by mentors, the Creative Collective grew a greater appreciation for vocal music.
*Academy Awards Event and Showcase: Celebrate Hollywood's biggest night as we welcome artists from across the Hill to showcase music, performance, and more on our very own red carpet!
Disney Week: Join your new "ohana" as we celebrate the wonderful world of Disney and Pixar with a new events each day of the week, ranging from drawing tutorials to open mic nights!
Trip to LACMA: Join fellow residents as we take a trip to LACMA and the rest of Museum Row as we explore the world of the arts that lies right outside of the UCLA campus.
Explore Arts Through Culture (In Collaboration w/ the Pilipin@ Floor): Join Creative Collective and the Pilipinx floor as we explore the unique and vibrant culture of the Philippines through food, music, and dance tutorials!
*Center for the Art of Performance Passport program: Attend six arts performances throughout the academic year, from a theatre performance based on military experiences, to a musical exploration of Los Angeles culture!
Resident Events: VPAC is filled with active performers and artists who feature in art shows, recitals, theater performances and open mic nights throughout the year. Support your fellow Bruins and don't be afraid to advertise your own arts events!
Resident Perspectives
"I never really felt as connected to my floormates as I do on the Creative Collective."
"I can literally walk around singing and someone will join in."
"People here are accepting, friendly, and also encouraging."
"Through living in this community, I have made new friends of diverse artistic talents and backgrounds."
"This community is designed for those individuals with a love for creative expression and an open mind to collaboration."
"The possibilities are limitless."
Campus Partners
Affiliated Student Organizations
Join Us
Follow us at @ CreativeCollective.UCLA
Questions?
Email us at livinglearning@orl.ucla.edu