Sustainability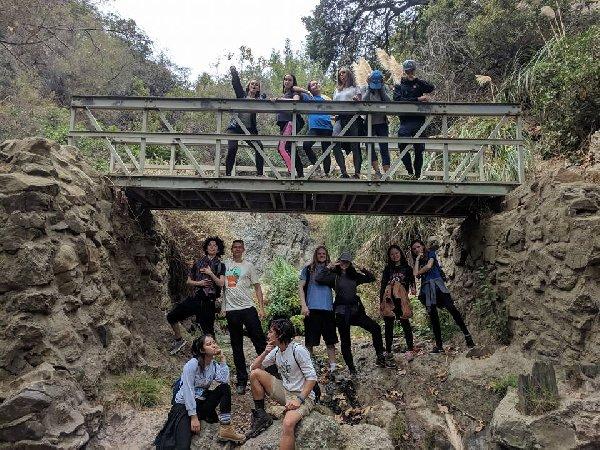 Sustainability residents enjoying a nature hike
About
The Sustainability Living Learning Community provides a living and learning environment that encourages students to consciously expand their awareness and apply their knowledge of sustainability through environmental responsibility and advocacy. This community focuses on the social, economic, political, and scientific issues affecting our Earth's urban, rural, and global environment. The Sustainability Living Learning Community provides students with opportunities to work alongside campus partners in both structured and informal methods to explore ways in which UCLA students can lead more sustainable lifestyles.
All students, regardless of major, are invited to participate in this community as we explore different methods of sustainability and how it affects the world around us.
The Sustainability LLC is located in Rieber Hall.
Recent Programs
Sustainability BBQ: Enjoy plant based meals and play sustainability trivia!
*Adopt-a-garden plot: Learn how to grow sustainably with our community garden plot!
*Picnic Retreat: Retreat into nature and enjoy a picnic with friends!
Vegan Cupcake Cooking Night: Cook up a good time at the Hitchen with some vegan sweets and a movie!
Planting Party: Join your floormates starting a floor garden at Sunset Recreation, care for the baby plants, and reap the harvests!
Energy Games Kickoff: Bring your very own great event ideas to fruition working with your floormates to plan the massive hill-wide kickoff to the Energy Games Competition! Then sit back and watch the energy savings roll in.
Athens Recycling Facility Tour: See firsthand where UCLA's recyclables go to be sorted and processed into new products!
GE Cluster for Freshmen
As a first-year student in this LLC, you may want to enroll in Cluster M1: Food: A Lens for Environment and Sustainability. In this cluster, you'll explore the complex connections between food and the environment, focusing on scientific, economic, cultural and social factors. As the world's human population surpasses 7 billion - with 1 billion people starving and approximately 1.5 billion over-weight - feeding the global population in a healthy, sustainable way in the face of climate change is perhaps the most urgent challenge of our time. You can find out more about the Clusters at the workshop on the First Year curriculum at your Orientation session, and your summer New Student Advisor can work with you to get you enrolled in Cluster M1.
Resident Perspectives
"Living on an LLC has given me the opportunity to bond with people on my floor, it's cool because we do a lot of little things which help us get in touch with the communities here at UCLA."
"I love how many connections we have to sustainability resources! It's super informational, and I love that we get to have a starting place for it all - Thank you Sustainability LLC!"
*"We do a lot of outside stuff, it's nice because I feel like people forget to enjoy life outside sometimes. Plus, it really helps during midterms and stuff; super good way to destress"
"For a greener future!"
Campus Partners
Affiliated Community Organizations
Questions?
Email us at livinglearning@orl.ucla.edu