Global Health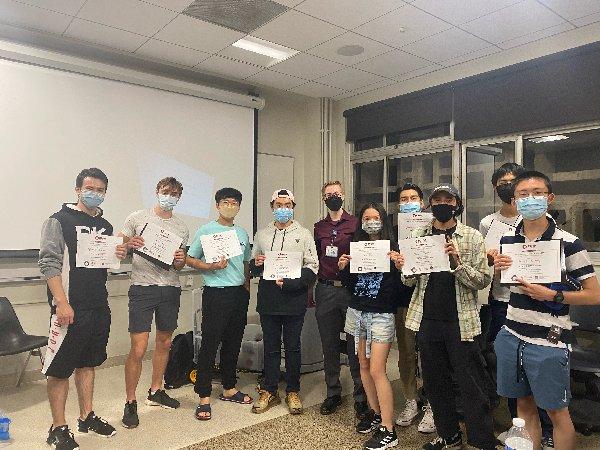 Global Health LLC residents at Stop the Bleed Certification Workshop
About
The Global Health Community aims to unify students interested in the health sciences and aspiring pre-health majors. Through participation in this community, students will gain an increased awareness of topics relating to medicine and health-related careers, as well as gain access to global health programming, resources, and support for those wishing to learn more about opportunities in the field of health sciences. This community focuses on spreading awareness of on-campus organizations and programs that gear towards subjects such as medical school, alternative medicine, genetics, health policy, and society's role in global health.
All students, regardless of major, are invited to participate in this community as we examine the role health plays in national, global, and social issues.
The Global Health LLC is located in Dykstra Hall.
Recent Programs
Global Health Welcome Reception- Enjoy refreshments and connect with UCLA Faculty, Medical Professionals, and other Global Health LLC Members.
Global Health Retreat- Bond with your Global Health floor mates and enjoy making s'mores on The Hill!
Stop the Bleed Certification Workshop: Learn how to stop patients from bleeding out! Taught by UCLA EMTs.
Makin' Masks- Make tie-dye masks with your floor mates to stop the spread of COVID-19. Learn just how effective masks are in stopping the spread of the virus, while making your own.
Dance Your Way to Health- Learn about the health benefits of dancing with Faculty-In-Residence, Dr. Rana, while jamming out on Just Dance.
Immigrant Health Justice Night- Connect with on-campus organizations and faculty to learn about the health disparities that affect immigrant communities.
D5 Karaoke Night- Sing with your friends and favorite Early 2000's artists at D5 Karaoke Night!
GE Clusters for Freshmen
As a first-year student in this LLC, you may want to enroll in Cluster 71: Biotechnology and Society or Cluster 80: Frontiers in Human Aging. Being part of a Cluster will allow you to bring your experiences from your LLC into the classroom.
Cluster 71 will challenge you to think about hard questions, including, most broadly, "How do advances in biotechnology affect our understanding of ourselves, our relationships with each other, and our role in the natural universe?" In this cluster, explore this new science from biological, ethical and sociopolitical perspectives.
Cluster 80 looks at advances in medical technology and public health that have significantly increased life expectancy, while examining how perceptions of age are still deeply rooted in culture, religion, literature, music, and film, all of which shape our views of the human life course. This Cluster incorporates hands-on education through "elder interviews" and service learning in the Los Angeles community, exploring fundamental issues that relate to living longer, more fulfilling lives.
You can find out more about the Clusters at the workshop on the First Year curriculum at your Orientation session, and your summer New Student Advisor can work with you to get you enrolled in Cluster 71 or 80.
Resident Perspectives
"I chose to live this year in the Global Health Living Learning Community primarily because of the people. The floor has become an incredibly supportive and diverse family."
"Everyone is so supportive of one another and the entire floor feels like one big team and family."
"Living on the Global Health floor has given me and fellow floormates first-hand access to speak with current medical students, network with health school administrators, and discover our role in conquering global health obstacles."
"The difficulty of STEM classes is sometimes discouraging, but by collaborating with my floormates, I've become well equipped with the skills and insight needed to succeed in such a challenging field of study."
Campus Partners
Blum Center on Poverty and Health in Latin America
Center for Health Policy Research
Center for World Health
Fielding School of Public Health
Hammer Museum
School of Nursing
Affiliated Student Organizations
Medical Experience through Service in Healthcare (MESH)
Maternal and Infant Health
Pilipinos for Community Health
Student Wellness Commission
UCLA Global Health Coalition
UCLA Habitat for Humanity
UCLA CPR and First Aid Program
Questions?
Email us at livinglearning@orl.ucla.edu