Technology & Innovation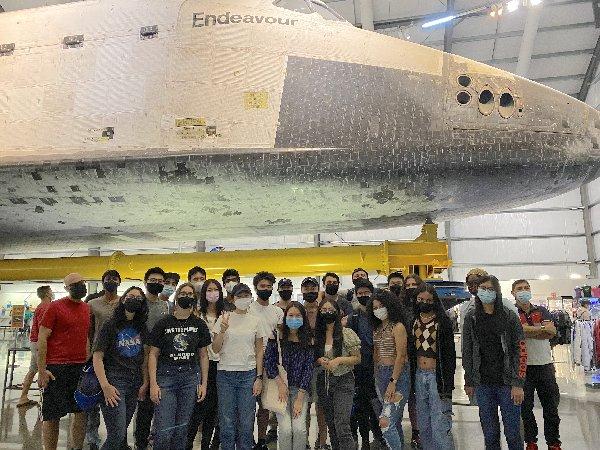 Tech & Innovation residents visiting the Space Shuttle Endeavor exhibit in Exposition Park
About
The Technology & Innovation community aims to cultivate students' passions and pursuits around technology, innovation, and the entrepreneurial spirit. Here, you can turn your ambitious ideas into a bold new reality in an inspiring environment where residents mentor each other and bond over the principles of design. The Technology & Innovation community ignites creativity in its members and provides them with the tools, programs, and networks so they can bring their ideas to life.
All students, regardless of major, are invited to participate in this community as we examine how imagination and creativity can change the world.
The Technology & Innovation LLC is located in Olympic Hall.
Recent Programs
T+I x Creative Collective LLCs Imagineering Panel: A panel of Imagineers from Walt Disney hosts a short presentation centered around applying engineering concepts to the workplace, and bridging the gap between designing creative projects and bringing them to life through the engineering process.
Trip to the Science Center: Take a trip with Faculty in Residence Dr. Neil Garg and Dr. Sri Kosuri to Exposition Park in Downtown Los Angeles where you can explore the Los Angeles Science Center and get access to the Space Shuttle Endeavor exhibit!
Biochem Research Lab Tour: An evening where students gain inclusive access to Chemistry Professor Dr. Neil Garg's research lab. Learn about the best methods for getting involved in research and get the opportunity to speak to Ph.D. candidates about what inspires their own research!
Resident Perspectives
"At UCLA, we don't just wait to see what the future will bring, we design a better future"
GE Cluster for Freshmen
As a first-year student in this LLC, you may want to enroll in Cluster M71: Biotechnology and Society. Being part of the Cluster will allow you to bring your experiences from your LLC into the classroom with fellow floor residents. As advances in genetics and molecular biology continue, the next generation of leaders must be challenged to think about hard questions, including, "Who should benefit from this new science? How do we determine what modifications of human and other life forms are safe and appropriate?" And, most broadly, "How do advances in biotechnology affect our understanding of ourselves, our relationships with each other, and our role in the natural universe?" In the Biotechnology cluster, students explore this new science from biological, ethical and sociopolitical perspectives.
Campus Partners
Join Us
Instagram: @tech.llc
Email: tech.innovationllc@gmail.com
Questions?
Email us at livinglearning@orl.ucla.edu