Chicanx/Latinx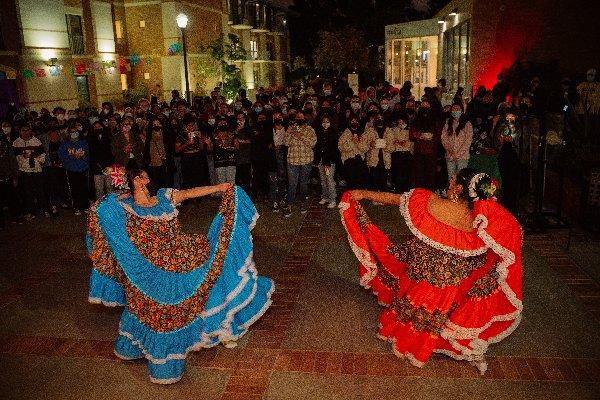 Groupo Folkloric performing at the first annual Noche de Cultura
About
El pueblo unido jamás será vencido. The Chicanx/Latinx LLC ensures equal access to academic resources in an environment that understands where you're coming from. Embracing and celebrating dozens of Latinx cultures, this LLC carries the long tradition of Latinx activism and unity on the UCLA campus and values the fair and accurate representation of its members. Through participation in this community, students will gain a deeper understanding of the issues and events affecting Chicanx / Latinx society. The "x" symbol is used to be gender-inclusive.
All students, regardless of cultural heritage or major, are invited to join in on the colorful immersion of Chicanx/Latinx culture.
The Chicanx/Latinx LLC is located in Sproul Hall.
Recent Programs
Semana de Sabor: Come out & make lots of delicious food this whole week! We'll have a variety of activities & foods to make.
*¡Noche de Lotería!: Come out and join us for noche de lotería!!! We'll have UCLA swag, so you don't want to miss out on this event! Save your frijolitos for your lucky cards!
Dia de los Muertos: Celebrate the tradition of Dia de los Muertos (Day of the Dead) by decorating sugar skulls, face painting, watching live performances on folkloric dance and mariachi, and creating an altar for loved ones.
End-of-Quarter Pachanga: Come and party with your LLC as we get down and celebrate the end of the quarter. We will have games, karaoke, and food! You heard it right. There will be food from all over Latin America. Come taste the sweet, spice & everything nice.
Self-Care Mondaze: Come out & paint some canvas art as we listen to come relaxing tunes!
Resident Perspectives
"This floor is like your home away from home. You could go into the restroom and hear banda and instantly feel at home."
"The Chicanx/Latinx floor really helped me transition into college. Coming to such a huge university like UCLA, it is easy to feel lost amongst all of the people but having a community like the Chicanx/Latinx floor really grounds you. The support and love from this community has definitely made my experience at UCLA magnitudes better."
"Being on the Chicanx / Latinx floor gave me my confidence back. It gave me a sense of identity and reminded me why I was at UCLA in the first place."
GE Cluster for Freshmen
As a first-year student in this LLC, you may want to enroll in Cluster 20: Race and Indigeneity in the US. Being part of the Cluster will allow you to bring your experiences from your LLC into the classroom. Cluster 20 looks at social and cultural themes that shape contemporary American life, explores the role of race in society today and the ways in which racial stereotypes are produced and challenged in popular culture. You'll engage in active dialogue and debate to become culturally fluent in the new multiethnic complexities that have displaced the outdated black-white paradigm of U.S. race relations. You can find out more about the Clusters at the workshop on the First Year curriculum at your Orientation session, and your summer New Student Advisor can work with you to get you enrolled in Cluster 20.
Campus Partners
Affiliated Student Organizations
Questions?
Email us at livinglearning@orl.ucla.edu