Public Service & Civic Engagement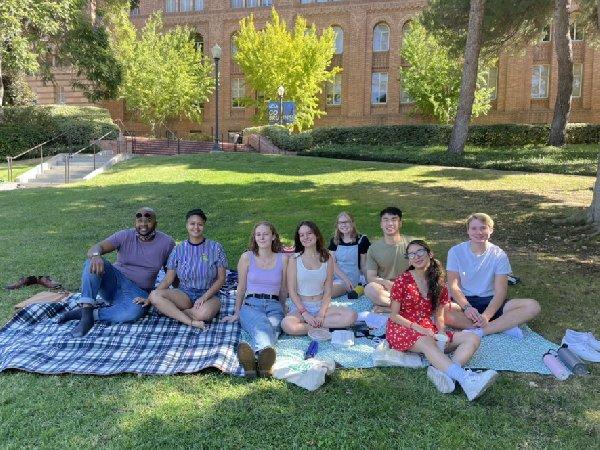 Public Service and Civic Engagement talking to Sunrise LA on environmental justice
About
The Public Service & Civic Engagement Living Learning Community aims to foster a pipeline of civic-minded student leaders who are passionate about the intersection of community service, public service, social justice, and community empowerment. Through participating in this community, students will be exposed to ongoing service initiatives impacting the UCLA and greater Los Angeles community along with opportunities to get involved with them. They will develop a cohesive understanding of public service career pathways in education, government, and non-profit work; an awareness for relevant scholarships, fellowships, grants, and internship opportunities; and ability to synthesize social justice with public service.
All students, regardless of major, are invited to participate in this community as we examine the ways in which community service, public policy, civic engagement, social justice, and community mobilization impact local, state, national, and global issues.
The Public Service & Civic Engagement LLC is located in Rieber Hall.
Recent Programs
Climate activism workshop: A conversation with Sunrise LA on how environmental justice can be achieved!
"Parasite" movie screening and discussion: What the movie accomplished for Asian representation, and how it highlights the struggles caused by the widening gap between rich and poor.
Native American History Month Poster Handout: Pick up free posters with decolonial messages in honor of Indigenous Peoples' Month!
Homelessness in LA and beyond: Conversations about misconceptions about homelessness, public housing and solutions, and article and video recommendations.
GE Cluster for Freshmen
As a first-year student in this LLC, you may want to enroll in Cluster 80: Frontiers in Human Aging, Cluster 48: Political Violence in the Modern World, or Cluster 10: Data Justice and Society. Being part of a Cluster will allow you to bring your experiences from your LLC into the classroom.
Cluster 80 incorporates hands-on education through "elder interviews" and service learning in the Los Angeles community, exploring fundamental issues that relate to living longer, more fulfilling lives.
Cluster 48 explores political violence, which can include ethnic cleansing and genocide, civil war, riots and pogroms, terrorism and state repression, revolution and counter-revolution, extra-legal warfare, and more, affects communities in every corner of the globe. This cluster probes the causes, dynamics, and consequences of political violence.
Cluster 10 investigates how data-based computation (i.e. algorithms, Artificial Intelligence, predictive modeling, social media) increasingly plays a dominant role in shaping our everyday lives. The "Data, Justice, and Society" Cluster asks: what is data, why does it matter, and how are our lives being ordered (or foreclosed) by technologies that govern our lives via their use of data?
You can find out more about the Clusters at the workshop on the First Year curriculum at your Orientation session, and your summer New Student Advisor can work with you to get you enrolled in Cluster 80, Cluster 48, or Cluster 10.
Affiliated Student Organizations
Questions?
Email us at livinglearning@orl.ucla.edu