Transfer Experience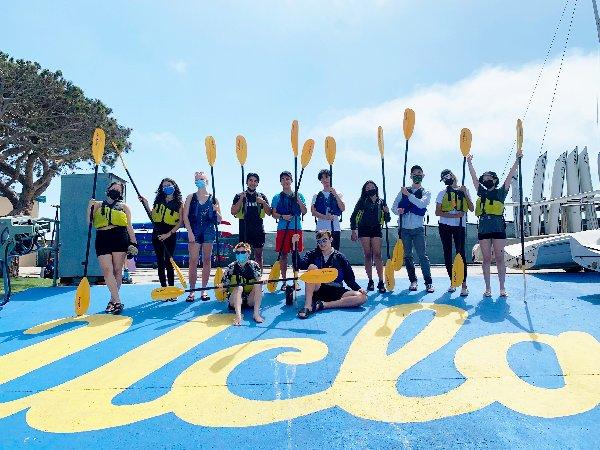 Transfer Experience residents kayaking at UCLA's Marina Del Rey Aquatics Center
About
The Transfer Experience offers housing solely with other transfer students and provides programs designed to meet the needs of our fantastic transfers! The Transfer Experience LLC provides a supportive environment for transfer students to successfully transition into UCLA's culture and community. At UCLA we recognize that the needs of transfer students vary significantly than those of incoming freshman, and it is our hope that all transfer students feel the inclusion and pride associated with becoming a Bruin.
Benefits Include:
Being apart of a community with fellow transfers
Surrounding yourself with transfers who also want to explore UCLA and the Los Angeles area
Participating in specialized programing focused on the needs of transfer students
Immersing yourself in an environment that will enrich your academic and social life
Networking with our faculty in residence
The Transfer Experience LLC is located in De Neve Holly.
Recent Programs
Meet S'More Transfers
Get Out to the Getty
Transfer Prom
Study Abroad Information Session
Research Opportunity Information Session
Santa Monica Field Trip
Graduate School Information Session
Movie Nights
Ice Cream Socials
Breakfast and Cartoons
Transfer Beach Bonfire
Making the Most out of Your Two Years Information Session
Welcome Reception
Karaoke Night
Meet S'more Transfers
Halloween Movie Night
Trivia Night
Resident Perspective
"It feels good to be able to back on campus again, and meet other transfer students."
"Living in the transfer dorm makes it much easier to socialize with people and never feel boring because there are so many activities organized by the community development interns."
"It is great to have all the transfers who have similar backgrounds in one building."
"Living in Holly enriches my perspective being with diverse student backgrounds, I like how people think differently."
"It is nice because you no longer feel alone in your frustrations, you have a support network."
"Coming from another country and being able to find people that are also new to UCLA and who have the same problems and doubts as you makes the whole transition much easier and enjoyable"
Campus Partners
Affiliated Student Organizations
Questions?
Email us at livinglearning@orl.ucla.edu